Vancouver, British Columbia – February 9, 2023 – Silver Valley Metals Corp. (TSXV: SILV) (OTCQB: SVMFF) ("Silver Valley" or the "Company"), a brownfields exploration Company with two potential high impact projects that comprise silver-zinc-lead located in north Idaho, USA and lithium – potassium (sulphate of potash) located in Zacatecas and San Luis Potosi, Mexico respectively, is pleased to provide strong exploration results from its Blackhawk Mine target at the Ranger-Page Project, Silver Valley, Idaho.   
To view the exploration results in a compelling 3-D multi-media audio-video click: https://tinyurl.com/yc7327fs
Highlights:
Significant near surface coincident Induced Polarization and Resistivity anomaly matching historical trend of the Blackhawk Mine.
Strike and dip length of the coincident anomalies is approximately 480 and 200 meters respectively located up plunge from the first level of the Blackhawk mine.
Mine remains open at depth below the 1200' level (465 metres below elevation); no drilling has tested the down plunge extension of the Blackhawk mine.
Strike length of the mineralized silver-zinc-lead Curlew vein at the bottom of the Blackhawk mine is approximately 370 metres
Zinc, lead, and copper – strong anomalous geochemistry results collected on surface and coincident with geophysics.
Historic mining at Blackhawk: 214,126 tonnes grading 100 g/t silver, 2.2% zinc and 8.1% lead – limited past recovery of zinc.
One of seven high priority large target areas defined from 2022 exploration campaign constrained within a 3km x 2km area.
To view exploration results in presentation format, click: https://tinyurl.com/3kverpeh
"The Blackhawk target has always been considered one of the highest priority targets prior to the first exploration program," comments CEO, Brandon Rook. With the exploration results now in hand, the Blackhawk target appears larger than first contemplated. The ground Induced Polarization and Resistivity geophysical surveys and coincident geochemical results verify the target and with a planned inaugural drill program scheduled in 2023 there is a significant target to drill near the surface. A successful drilling program at Blackhawk would be a great step forward, as access to the upper mineralization occurrence would be cost-effective and would enhance the economics of the lower Blackhawk target which is the continuation at depth of the historic Blackhawk mine."
The deepest stope (where the ore is mined) in the Blackhawk mine is situated 465m below surface, making it reachable from a surface drilling platform. The Company believes the Curlew vein (Blackhawk mine) is consistent with other significant deposits in the Silver Valley, and has the potential to increase in width, grade, and strike length with depth, if it intersects favorable host rocks, such as the Revett formation which the Company believes is likely based on the recent geological modeling of underground maps.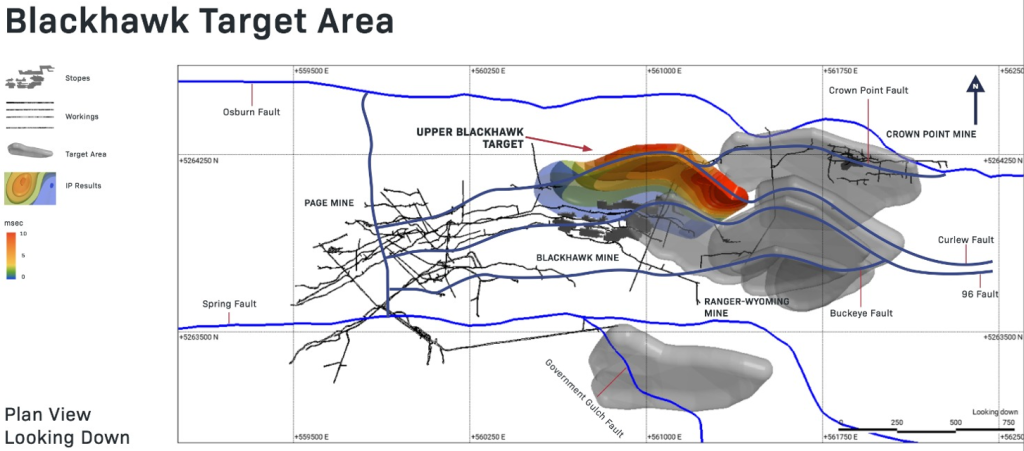 To view an enhanced version: Blackhawk Target Area, please click https://tinyurl.com/3udp7d2t
.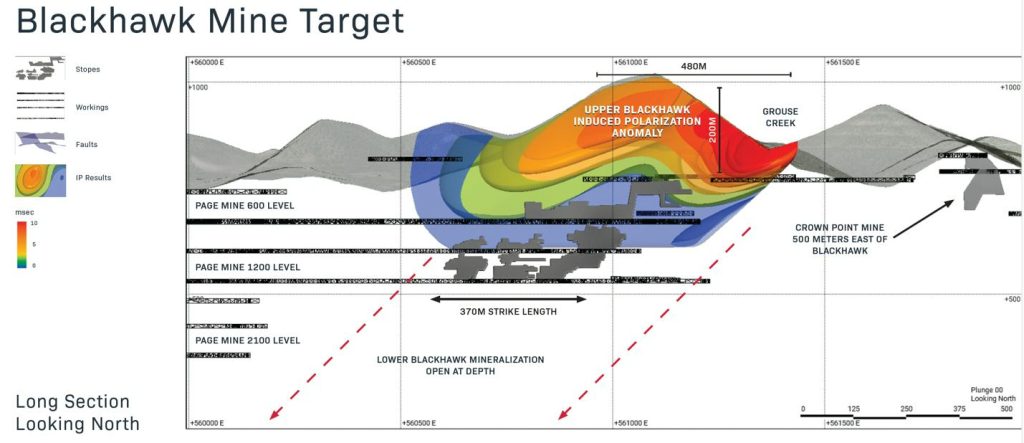 To view an enhanced version: Blackhawk Mine Target please click: https://tinyurl.com/bdfdruf9
The Blackhawk mine ceased operations in 1944 after 21 years of operation when the owner of the Page Mine, ASARCO, discontinued operations despite the presence of mineralization in the deepest stopes. The Blackhawk mine was leased by ASARCO from the Blackhawk mine owners at that time to optimize ASARCO's Page mine mill. Silver Valley Metals entered into an option agreement to acquire 100% of the historic Page Mine – see press release 11/18/2021 click: https://tinyurl.com/23rjcbjf
The Page Mine has exploration drilling with compelling intercepts that extend mineralization beyond the high-grade historical resources located at the bottom of the mine – see news release dated September 20, 2022 – click: https://tinyurl.com/mwdpu6fn
The Blackhawk target is located 1,000 metres east from the Company's high-grade and top ten past-producer in the District, Page Mine, and located 650 metres due west from the high-grade silver dominant past producing Crown Point Mine (option to own for Silver Valley – see news release dated January 26, 2023, for exploration results at Crown Point: https://tinyurl.com/4m7uymtv
The Blackhawk Mine and target area is one of seven high priority target areas that the Company has defined from its successful 2022 exploration campaign. Importantly, all high priority areas are constrained to a relatively small area approximately 3 kilometres X 2 kilometres and each target shows significant strike and depth potential.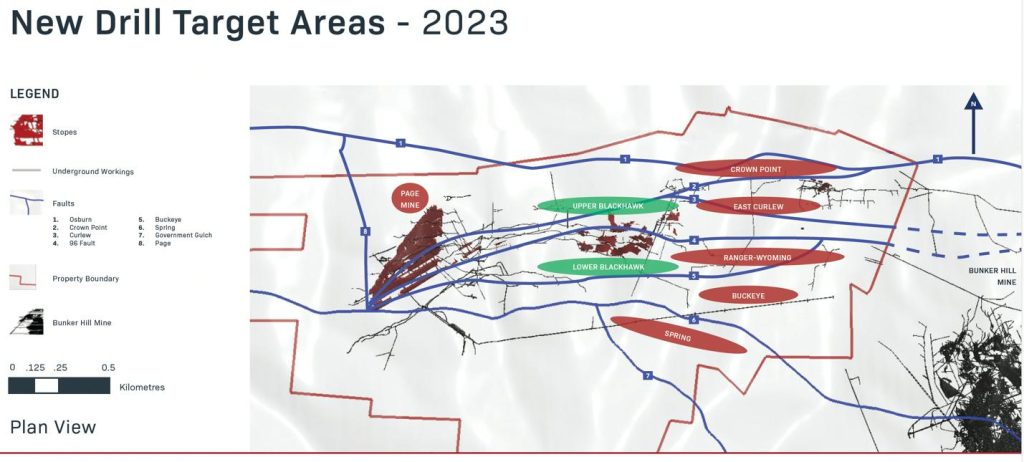 To view an enhanced version of New Drill Target Areas, click https://tinyurl.com/3js3drpn
Geophysics Interpretation:
The ground Induced Polarization and Resistivity surveys indicate a significant anomaly exists above the existing Blackhawk stopes, with an interpreted plunge line matching the historical trend of the Blackhawk Mine indicating the system is open up-plunge and along the same dip.
The background Induced Polarization readings observed at the Blackhawk host rocks was measured at 0-4 msec, as compared to the background observed at the Prichard formation (+20 msec) located north of the Blackhawk target. The Blackhawk Induced Polarization anomaly ranges between 6 and 20 msec, which is an anomalous result from the widespread dataset accumulated during the program. Resistivity values are locally elevated (1,000 to +2,000 ohm) up plunge of the Blackhawk stopes, and coincident with the polarization results, indicating the likely presence of silicification, an alteration closely associated with mineral occurrences in the Coeur d'Alene mining district. The strike and dip length of the anomaly is approximately 480 and 200 meters respectively. This ground Induced Polarization survey is the first-time modern exploration techniques have been deployed at the Blackhawk Mine to identify additional mineralization, and this result represents a significant step forward in our evaluation of the target.
Geochemical Program:
A surface geochemical program was initiated to further validate the ground geophysics targets. Samples were collected from the B and C soil horizons on a 30-metre spacing. At each location, a pit was dug until refusal (could not dig deeper). The B and C soil horizons were sampled separately to assess and compare geochemical results from Ranger-Page weathered bedrock and soils to results published in other Silver Valley geochemical studies. Samples were described, photographed, staked and location data collected via GPS. Results were loaded into Leapfrog Geo and displayed via a proportional grade plot to highlight high values.
To view the presentation, geochemical results please click here: https://tinyurl.com/3kverpeh
Results over the Blackhawk target are summarized below. The results are consistent with the Company's expectation of a zinc-lead system with lesser silver, in line with historic production records. Background levels of lead, zinc and copper in the project area are typically 10 ppm, 40 ppm, 6 ppm respectively based on all 2022 geochemical data. Average lead, zinc and copper values measured over Blackhawk are 59, 87 and 10 ppm respectively. Anomalous values for lead, zinc and copper are 379, 183 and 22 ppm respectively. Trace element vector analysis is ongoing, and we expect it will further validate the target.
Geochemical Results:
B Horizon Geochemical Results: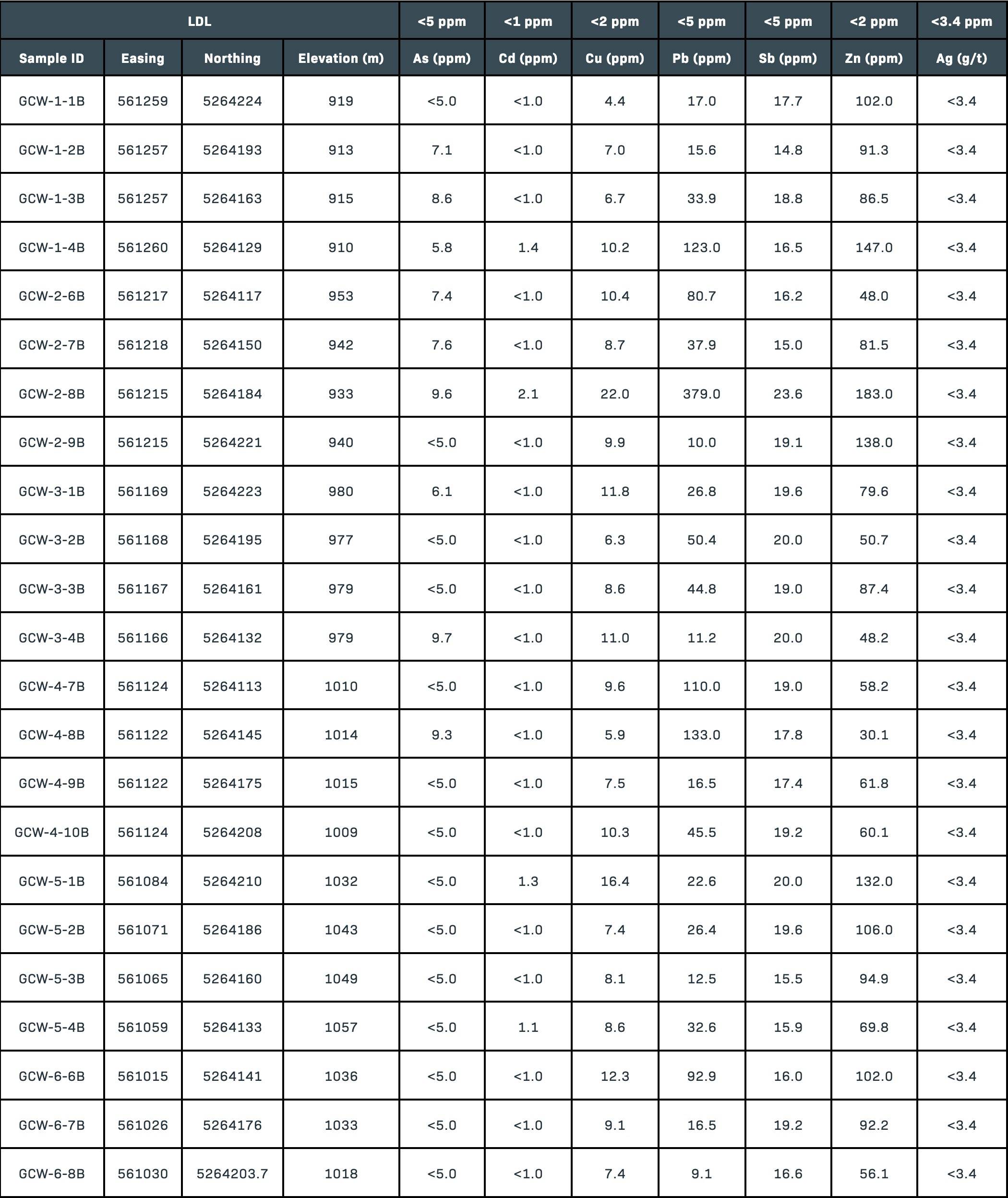 C Horizon Geochemical Results: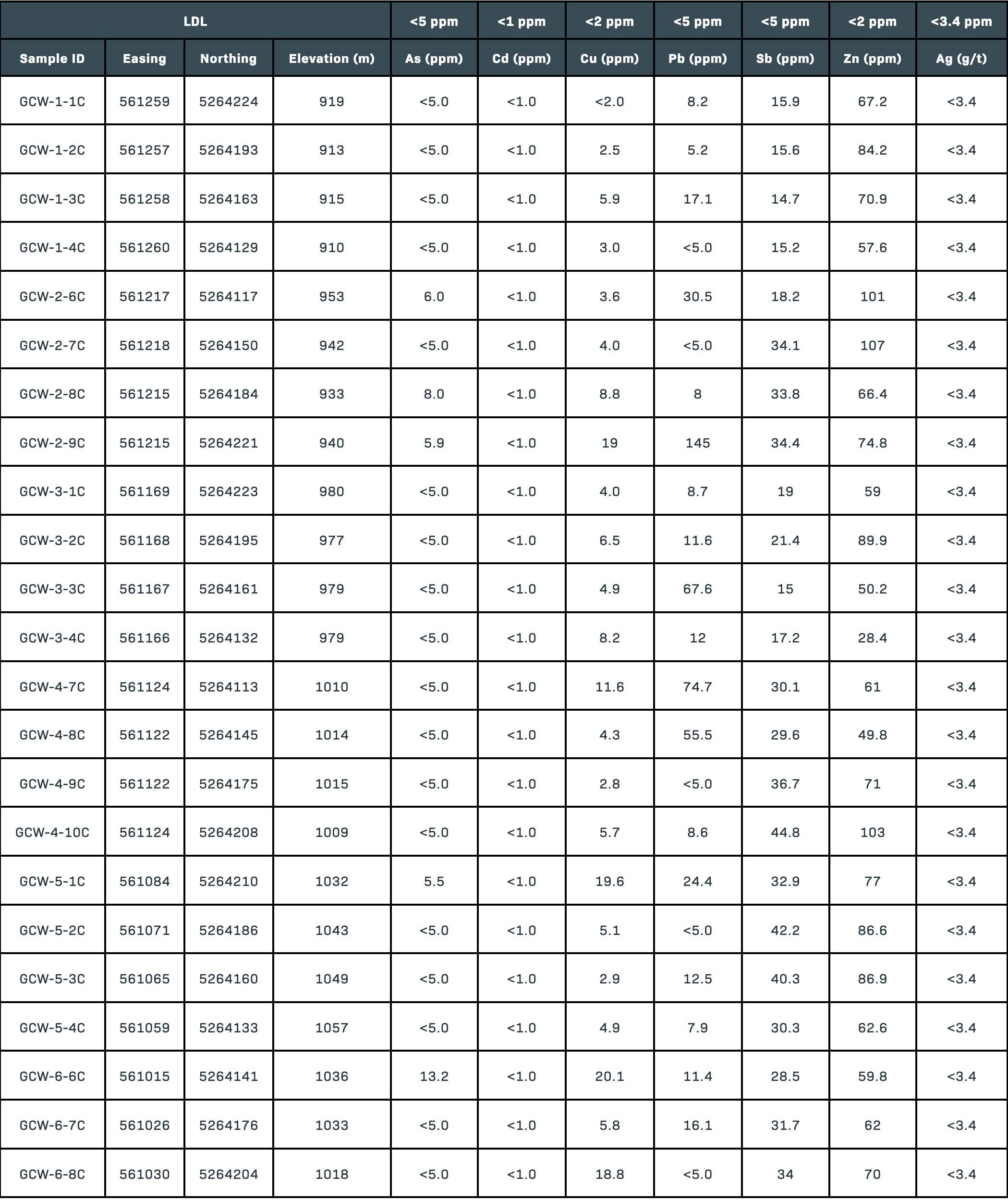 Lab Analysis – QA-QC:
Atomic absorption analysis for Silver:
American Analytical Services, Inc ("AAS") is an ISO/IEC 17025 accredited laboratory, located in Osburn Idaho. All analysis includes quality control measures to ensure an acceptance standard established within AAS methods. All samples sent to AAS were checked for accuracy between the chain of custody and the samples with the client present. Samples are dried before starting the prep process. The prep process includes crushing the sample in its entirety to 80% passing a 10 mesh, split in a riffle box to make a 250g sub-sample and pulverized to 85% passing a 140 mesh. Analysis for AA-Ag is done by 2 or 4 acid digestion. Detection limit for AA-Ag is 0.100 Oz/ton – 15.0 Oz/ton. Any results over the detection limit are sent to fire assay to do Ag gravimetric finish.
ICP-OES analysis for 35 element analysis:
All samples are subjected to a 4 acid digestion. Digestion QC consists of a reagent blank, control standard and for every 20 samples there is a duplicate of a sample pulp to check RPD. To begin ICP-OES analysis, the instrument is standardized with the five working standard solutions (multi-point linear fitting). Samples are then measured with the reagent blank, control standard and a CCV (continuous calibration verification). Once samples are analyzed, all QC is checked, and results are sent to LIMS system to be made into the client's report.
---
Qualified person
Timothy Mosey, BSc, MSc, SME, is the qualified person for the company and qualified person as defined by National Instrument 43-101. Mr. Mosey supervised the preparation of the technical information in this news release.
About: MexiCan lithium – potassium (sulphate of potash) project:
Silver Valley Metals Corp. owns a 100% interest in a lithium and potassium bearing salar complex comprising 4,059 hectares on three mineral concessions (the "Mexican Projects") located on the Central Mexican Plateau in the states of Zacatecas, and San Luis Potosi, Mexico. The NI 43-101 inferred mineral resource contains 12.3Mt of Sulfate of Potash (SOP) and 243,000 tonnes of lithium carbonate equivalent (LCE) and remains open in all directions for expansion.
About: Ranger-Page project:
The Ranger-Page Project ("The Project") is in the Silver Valley, northern Idaho, USA, 60 kilometres east of Coeur d'Alene and 1 kilometre from the I-90 freeway. In 2020 Idaho was ranked the first in the world in policy perception and 9th best mining jurisdiction (Fraser Institute Annual Mining Survey). The Project borders the famous Bunker Hill Mine to the east and for the first time consolidates the western extent of the prolific Silver Valley mining corridor by one operator in the past 100+ years.
The Project comprises 6 historical mines on patented claims, without royalties. The largest of these, the Page Mine, was a top ten producer in the Silver Valley yielding over 1.1 billion pounds of zinc and lead and 14.6 million ounces of silver. The Page Mine has high grade silver-zinc-lead historic reserves and remains open at depth and along strike beyond what has been identified to date.
Historical mining on the properties shared underground infrastructure which connected the larger Page mine with five shallow historic mines within the larger Project area. The Company has underground mining data and surface geological data that supports high grade silver-zinc-lead mineralization present within the shallow, undeveloped mines. These mines remain open at depth, and laterally along strike.
Exploration potential beyond the historic mines is considered significant as modern systematic exploration is being applied to the project for the first time.
About: Silver Valley Metals:
Silver Valley Metals Corp. is a Canadian exploration company comprised of a group of experienced exploration, mining, and financing specialists focused on the pursuit of mineral discovery and development. We are focused on the advancement of strategic and precious mineral properties including Lithium-Potash in Mexico and Silver-Zinc-Lead in northern Idaho, USA.
On behalf of the Board of Directors of Silver Valley Metals,
"Brandon Rook"
Brandon Rook, President & CEO, Director
For further information please contact us at:
604-800-4710
info@silvervalleymetals.com
THE TSX VENTURE EXCHANGE HAS NOT REVIEWED AND DOES NOT ACCEPT RESPONSIBILITY FOR THE ADEQUACY OR ACCURACY OF THIS RELEASE.
The information contained herein contains "forward-looking statements" within the meaning of applicable securities legislation. Forward-looking statements relate to information that is based on assumptions of management, forecasts of future results, and estimates of amounts not yet determinable. Any statements that express predictions, expectations, beliefs, plans, projections, objectives, assumptions or future events or performance are not statements of historical fact and may be "forward-looking statements." Forward-looking statements are subject to a variety of risks and uncertainties which could cause actual events or results to differ from those reflected in the forward-looking statements, including, without limitation: risks related to failure to obtain adequate financing on a timely basis and on acceptable terms; risks related to the outcome of legal proceedings; political and regulatory risks associated with mining and exploration; risks related to the maintenance of stock exchange listings; risks related to environmental regulation and liability; the potential for delays in exploration or development activities or the completion of feasibility studies; the uncertainty of profitability; risks and uncertainties relating to the interpretation of drill results, the geology, grade and continuity of mineral deposits; risks related to the inherent uncertainty of production and cost estimates and the potential for unexpected costs and expenses; results of prefeasibility and feasibility studies, and the possibility that future exploration, development or mining results will not be consistent with the Company's expectations; risks related to commodity price fluctuations; and other risks and uncertainties related to the Company's prospects, properties and business detailed elsewhere in the Company's disclosure record. Should one or more of these risks and uncertainties materialize, or should underlying assumptions prove incorrect, actual results may vary materially from those described in forward-looking statements. Investors are cautioned against attributing undue certainty to forward-looking statements. These forward-looking statements are made as of the date hereof and the Company does not assume any obligation to update or revise them to reflect new events or circumstances. Actual events or results could differ materially from the Company's expectations or projections.