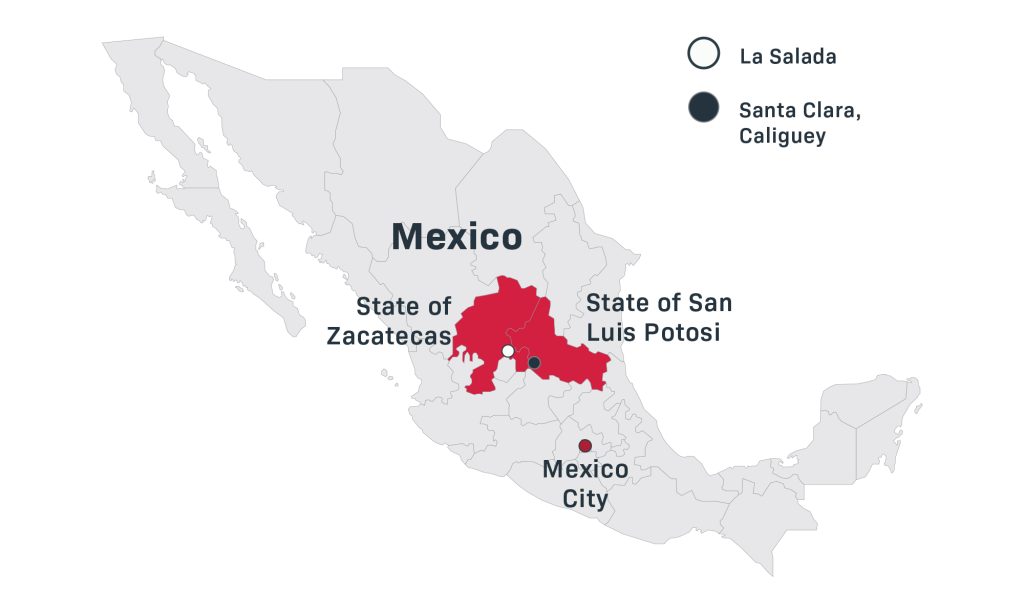 The Company has a 100%-owned interest in a lithium and potassium bearing salar complex comprising 4,056 hectares on three mineral concessions (the "Mexican Projects") located on the Central Mexican Plateau in the states of Zacatecas and San Luis Potosi, Mexico. The three principal high priority primary SOP brine salar targets with the most advanced exploration to date are La Salada, Santa Clara and Caliguey. In February 2019, the Company released a maiden Mineral Resource Statement, which delineated 120Mt of inferred mineral resources grading 4.6% potassium (K) and 380ppm lithium (Li). The resource estimate contains 12.3Mt of Sulphate of Potash (SOP) and 243,000 tonnes of Lithium Carbonate Equivalent (LCE), dual high value commodities of SOP and lithium as co-products, and remains open in all directions for expansion. There is a continuous high grade lithium portion at La Salada salar containing 7Mt at 1,490 ppm Li and remains wide open at depth beyond the 5 metre depth tested to date.
The salars contain recently deposited soft uncompacted lake sediments comprising a mixture of terrigenous, transported sediment and chemically-deposited evaporite sediment. The sediments contain elevated, economically-interesting values of potassium, lithium, and boron.
Exploration has been conducted in two main phases: former owners Litio Mex, S.A. de C.V. ("Litio Mex") between 2010 and 2012, and by the Company between 2016 and 2018. Exploration has included geophysical (seismic) surveying, geological mapping, pitting, hand and drill-auger, reverse-circulation drilling, and diamond core drilling. A number of mineralogical and leaching testwork programmes have Santa Clara, the most prospective and largest salar in the District, possesses size and scale (5km by 2km) with grades from the first 5 metres in sediments averaging ~4.8% potassium over the entire salar. There is deep basin aquifer potential defined by a recent regional geophysics survey near Santa Clara, indicating that the salar basin depth may be much greater than previously contemplated. There is a large land position and first mover advantage in a new district within an emerging potassium-lithium province in the Central Mexican Plateau. Mexico imports 100% of all potash, which presents a significant opportunity to fulfill supply needs. The Project is also located in the heart of the mining-friendly state of Zacatecas, with political stability. There is excellent infrastructure in place, including abundance of skilled labour, an international airport, modern highways, railways, and sufficient power. There is a seasoned local management team based in-country in Zacatecas, Mexico.
Corporate
Presentations
Ranger-Page Project:
MexiCan Lithium-Potassium Project: